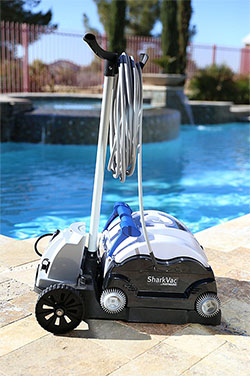 If you're a pool owner, you know the frustration of dealing with leaves and debris that sink to the bottom of your pool. While skimming and vacuuming weekly are essential to keeping your pool healthy and crystal clear, the daily build-up of debris at the bottom of your pool can increase your workload and cause havoc with the chemistry of your pool along with your pool's surface finish. Automatic pool cleaners from Hayward can help you take back your mornings and keep your pool clear and ready to entertain at moment's notice.
21st Century Pools and Spas carries Hayward automatic pool cleaners, recognized as one of the hardest working, reliable robotic pool cleaners in the industry. Hayward automatic pool cleaners provide superior cleaning, reliability, and convenience for every pool owner. From groundbreaking robotic cleaners to high-performance pressure and suction cleaners, Hayward has your pool cleaning needs covered.
---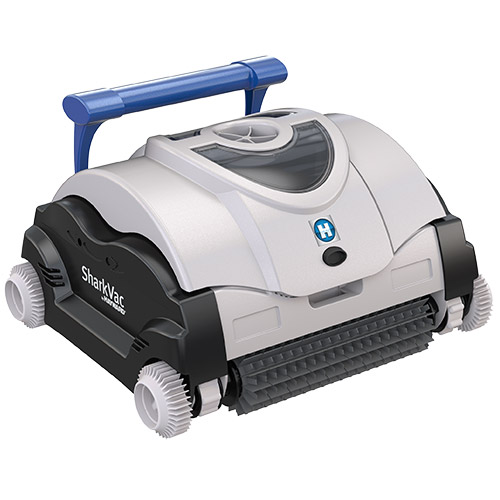 Hayward SharkVac Series™
Both SharkVac and SharkVac XL™ by Hayward® are built with the highest-quality components and proven technology that create reliable, consistent results while maximizing energy efficiency. Whether you clean your pool floor and coves with SharkVac or cover the floor, walls, coves and waterline with SharkVac XL, the cleaners' robust, low-profile design and top-access filters give them an added bite.
Efficient cleaning program
Uses smart steering technology that provides an efficient cleaning pattern, scouring pool floors and coves in just about 2 hours
For full pool coverage including walls and waterline, try the SharkVac XL.
Easy access to debris removal
Top-access filter allows quick debris removal and easy cleanup
2 fine porosity filter elements - just remove and rinse with garden hose, no need to turn cleaner over to empty
Easy to use
Requires no hoses or hookups nor additional pumps, just let it clean
Runs separately from the pool's filtration system reducing filter backwashing and water usage
Sensors (SharkVac XL only)
Out-of-water sensor protects the motor by preventing cleaners from running out of the water.
Beach-entry sensor reverses direction when pool cleaner starts climbing out of the water
AquaBug
AquaBug turbine cleaners are designed to clean the bottom of all sizes and shapes of above-ground or on-ground pools - automatically. They operate off the pool's existing filtration system and feature Hayward's exclusive SmartDrive® program steering so it won't miss a spot. Performance, price, and proven reliability make these cleaners the clear choice for automatic pool cleaners
Patented SmartDrive programmed steering system ensures the entire bottom of the pool is cleaned quickly and completely
Installs in less than 10 minutes, without tools
Unique turbine/gearing system provides constant balanced water flow assuring quiet operation and gentle movement across the pool bottom
Improves water circulation by pulling water from the pool bottom as it moves
Deluxe bumper ring minimizes friction for easy movement away from walls and resumption of the programmed steering pattern
Includes 32 feet of hose
Available in fun AquaBug, Wanda the Whale or Penquin Models