Binghamton's Top Rated Above Ground Pool Installer
If you want all the summertime family memories, but without the permeance and investment of an inground pool, an above ground pool installed by the experts at 21st Century Pools & Spas is the answer. We've installed hundreds of above ground pools over the years and we've also fixed just as many improper above ground pool installations. We believe in the "Buy it Once, Buy it Right" mentality when it comes to your above ground pool which is why having your pool professionally installed guarantees summer after summer of fun and enjoyment for you and your family. Our above ground pools have features you won't find anywhere else, like R-10 insulated walls that allow your pool to pay for itself over time and provides you an extended season to get more use of your new above ground pool.
---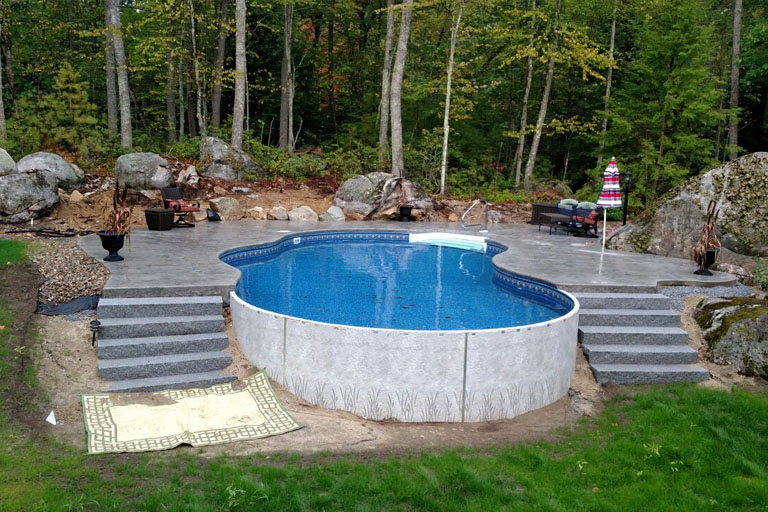 Radiant Above Ground Pools
Radiant above ground pools offer incredible features and benefits that you'd be hard pressed to find in any other pool manufacturer. Unique advancements in manufacturing technology, an incredible warranty protection, unlimited installation options and energy savings, that over time, allows a Radiant above ground pool to pay for itself. The engineering of a Radiant pool comes from developments at the NASA space program and are the only structurally insulated pool using an industry first R-10 structural panel. This makes them more durable than steel, polymer, and even 12 inch thick concrete. The added benefit of these walls are that they can be built partially, or fully, underground giving you more installation options to match the contours of your yard.
These insulated walls can also save you over $400/year as opposed to heating a non-insulated above ground pool. Every Radiant Pools comes with a 100% Lifetime, Fully Transferable, Non-Prorated Warranty against manufacturing defects for as long as you own your pool – and beyond!
Vogue Above Ground Pools
Vogue have been manufacturing above ground pools for over 50 years, adding innovation and quality to the above ground pool market over the years. They offer a wide variety of beautiful above ground pools to fit nearly any backyard and every budget. Vogue pools are also covered by the most comprehensive warranty and offer protection on salt water-compatible pool
An innovative interlocking installation system allows Vogue above ground pools to be installed in a smaller footprint in your yard, taking up less space without compromising on strength. A three stage coating system also protects against corrosion while eliminating the flimsy look and feel of cheap metal pools.